TASC is registered to carry out audit work and
is regulated for a range of investment business activities by the Association of Chartered Certified Accountants.
The practice was founded in 2002 by Michael Ruddock specialising in supporting businesses and their owners through their successes and challenges.
At TASC we enjoy building a close working relationship with our clients and their businesses, helping us to understand and provide for their own challenges and needs. We talk to our clients on a one-to-one basis. If a client leaves a meeting not understanding what has been discussed, we've failed our client.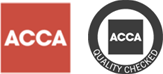 "Since starting up the practice in 2002 I have enjoyed every minute. I am fortunate to be given the opportunity to work closely with many different businesses, gaining diverse experience not only in terms of different industry idiosyncrasies, but also knowledge on other aspects of running a business aside of the pure accounting function e.g. funding, strategic planning, employee incentives, employment law; insolvency risks; debt recovery; legal disputes, etc. It's these experiences that I feel add value to the services we supply. We have real life practical experience of situations which help us give you the right support.
The style of our service is foremost professional, ethical and innovative, delivered in a relaxed and informal manner. So if you are a new start business or considering changing accountants please do give us a call.
We do not charge for the first meeting and never consider the opportunity to meet new people and businesses a waste of time.
Mike Ruddock
FCCA
mike@theasc.co.uk